A Proud Sponsor of The FENG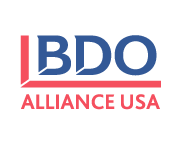 Founded in 1993, the BDO Alliance USA is among the industry's largest associations of accounting and professional services firms. It was established to celebrate the value of collaboration and has grown to include over 200 CPA firm members and more than 100 Business Resource Network organizations. The Alliance represents nearly every state and includes a comprehensive range of products and services. Member firms are fully autonomous, united in mindset, caliber of service, and spirit of collaboration, to the benefit of all involved.
The BDO Alliance USA is a subsidiary of BDO USA, LLP, a leading professional services firm providing assurance, tax, financial advisory and consulting services to a wide range of publicly traded and privately held companies. As an independent Member Firm of BDO International Limited, BDO serves multi-national clients through a global network of more than 73,000 people working out of 1,500 offices across 162 countries.
FENG members have access to a wide array of resources through the BDO Alliance USA, which includes the following products and services from our independent member firms, BDO USA, LLP and the global BDO network:
Assurance Services
Tax Services
Industry Services
Cost Savings
Shared Services
Technology Services
Consulting/Advisory
Risk Management
International Business
Learn more and connect with us at http://bit.ly/bdofeng.