A Proud Sponsor of The FENG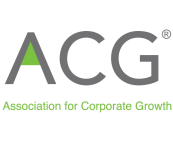 The Association for Corporate Growth®
Founded in 1954, ACG is a global organization with 58 chapters and over 14,000 members. Doing business is at the heart of the ACG membership experience. Chapters in the U.S., Canada, Europe and Asia bring dealmakers together to help them achieve their business and professional goals.
75% of ACG members report that they have done business with fellow members.
This return on investment has made ACG the most trusted and respected resource for middle-market dealmakers and business leaders who invest in growth and build companies. Face-to-face events, online tools, structured networking opportunities, exclusive member benefits and leading-edge market intelligence provide ACG members with powerful business-building resources.
Private equity professionals, investment bankers & intermediaries, attorneys, auditors & accountants, lenders, corporate development officers, company leaders and others focused on the middle market make ACG your resource for opportunities, capital and services. ACG brings together every segment of the growth community.